Just ahead of last week's highly-anticipated Grammy Awards nominations, Bacardi Limited vodka brand Grey Goose has signed a new multi-year partnership with the Recording Academy naming the vodka as the Official Spirit Partner of the 64th Annual Grammy Awards.
World-famous for its quality ingredients and distinctive taste, Grey Goose joined the Recording Academy in honoring people who have lent their unmatched talent to the year's best music with a ceremony scheduled to air on Jan. 31.
According to Adam Roth, senior VP of partnerships and business development of the Recording Academy, the two brands are sharing a mission to recognize and elevate creative voices by centering on the celebration of excellence and artistic expression.
Though no specific timeline was detailed, the pact that ties the vodka's name to one of the year's tentpole TV events, spans multiple years, giving Grey Goose an opportunity to create a strong relationship with the ceremony as well as with its guests and the audience.
Celebrate It With A Cocktail
Promoting the partnership, Grey Goose's vice president of marketing Aleco Azqueta said that apart from celebrating best-in-class music, the Grammys are also a showcase for an artist's individual style in a similar manner as Grey Goose is bringing its own personal flair to every cocktail and experience it creates.
Continuing in the same spirit and to kick off the inaugural year of the partnership, Grey Goose has designed a new music-inspired take on the martini – which has recently seen a resurgence of popularity – a new signature cocktail called the Passion Drop which will reflect musical themes of the past year.
The Passion Drop, which reimagines the flavorful 'tini cocktails of yesteryear', is a remix of the martini that offers a 'fresh spin on a classic beat', with unexpected ingredients that speak to the varied styles of music from the nominees.
Azqueta explained that there's no cocktail more stylish and celebratory than the martini, especially when some truly refreshing new and unexpected ingredients are added, and it's the brand's take to celebrate the unique style and expression of each of this year's nominees, both on and off the red carpet, and the passionate style that Gray Goose has experienced from this year's best music.
The cocktail, which Grey Goose will promote at events throughout Grammy Week – including the Nominees Reception and Grammys Celebration – and will serve it in select bars and restaurants nationwide for those not in attendance, marks the latest move by the vodka brand, which this year is celebrating its 25th anniversary, to market its product behind themes of style, music, and culture.
Full On Creative Campaign
Considering the fact that the partnership was announced the day before 2021 nominations went live, it received significant chatter on social media, which Grey Goose may have tapped into.
The Grammy Awards ceremony this year will be held on a Monday instead of its typical Sunday airtime so on Mondays leading up to the ceremony, Grey Goose is launching a series of in-person and virtual activations to promote the partnership accompanied by a creative campaign spanning TV, digital and social media.
To highlight the artistry of the year that has passed, the series incorporates live events, digital content, and collaborations. It will also feature a creative campaign spanning more traditional channels, as well as e-commerce offerings, including a limited-edition cocktail kit.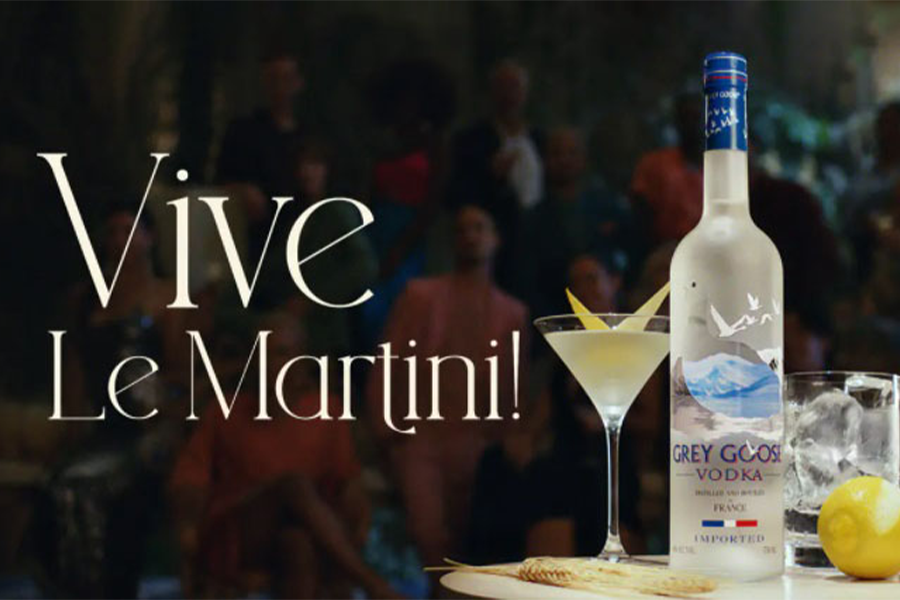 The partnership with the Recording Academy is in line with Grey Goose's efforts to lean deeper into themes of style, music, and culture to fuel its marketing.
Previously in June, the vodka brand has promoted its botanically infused product line by hosting a virtual performance by SZA while earlier this month it has launched "Vive le Martini," a video-ode to the classic drink.
Grey Goose has teamed up with marketing agency Mullen Lowe for Vive Le Martini 30-second spot showcasing the brand's classic serve that opens with the Do the 'Tini – tagline with the camera panning to party guests performing dance routines mirroring the moves of a bartender crafting a Grey Goose Martini.
In partnership with Italian houseware design company Alessi, Grey Goose also launched a $350 cocktail kit 'Grey Goose X Alessi' that contains a 750ml bottle of vodka, a shaker, a cocktail measure, bar strainer, and stirrer that are offered for purchase at drinkgreygoose.com or through Reserve Bar.